Salmon w/Side-Salad
Submitted by

admin

on August 29, 2020 - 7:30pm



Another one of our evening dinner favorites for two. This meal is quick to prepare and well worth the effort. Protein quantity is great and the quality is outstanding. What's better than wild salmon? One could argue that wild fish is one of the best foods on the planet. The onions are hot but very tasty.
A particularly valuable flavonoid in onions is quercetin, which acts as an antioxidant that may be linked to preventing cancer. Onions are super-healthy. They are excellent sources of vitamin C, sulphuric compounds, flavonoids and phytochemicals. Parmesan cheese is a good source of protein and fat. It's rich in vitamins and minerals like calcium, vitamin A, vitamins B6 and B12, phosphorus, zinc, and copper. Purple cabbage is a dietary fiber powerhouse, a good source of low-density carbs, rich in potassium and contains plenty of vitamins and other essential minerals. Kale is a reliable source of chlorophyll that helps prevent the body from absorbing heterocyclic amines. These chemicals occur when people grill animal-derived foods at a high temperature.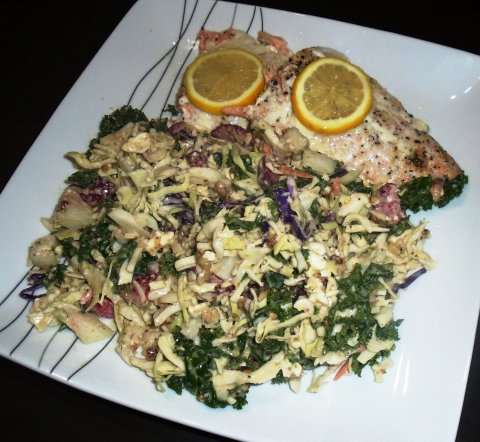 Salad Ingredients
2 large leaves of organic kale
2 handfuls of chopped purple and white cabbage
1/2 chopped red (purple) onion
1 large avocado
1/2 cup fresh ground from block Parmesan cheese
3-4 T. raw pumpkin seeds
Salmon Filet
1/2 wild wild pink salmon filet topped with pepper
Tahini Salad Dressing
Together in a blender add:
1 part (1/2 cup-125 ml) "extra virgin" olive oil
1 part (1/2 cup-125 ml) juice from freshly squeezed lemon
1 bulb of garlic grated
½ cup unpasteurized honey
3 Tablespoons Tahini (ground sesame paste)
Preparation Directions
Add the salad ingredients into a large wooden bowl
Add salad dressing and mix well with tongs or bear claws
Bake the salmon for 10-12 minutes in the oven at 350 degrees, don't overcook
Scoop out salad onto a large plate, add a nice portion of salmon. Pièce de résistance!
---
Bon Appetite!...TKH