Ruby Red Grapefruit and Avocado Salad
Submitted by

admin

on August 10, 2015 - 10:51am



Ruby Red Grapefruit and Avocado Salad is deliciously versatile. You can have it for breakfast, lunch or dinner. This unique concoction makes a wonderful companion to seafood, chicken, quinoa or wild rice.
The Ruby Red Grapefruit and Avocado Salad is refreshing, crunchy, smooth, sweet and tangy. Best of all this dish is alkaline forming and comes with a special bonus…it's # 1 for heart health!
Avocados have a number of splendid characteristics that make them a wise choice for athletes. One avocado contains 1166mg of potassium and 18mg of sodium, providing an excellent 64:1 ratio in favor of potassium. Due to their high percentage of fat (77%) avo's provide reliable sources of vitamin K and E and EFAs, all of which reduce inflammation. Avocados also 'sport' an extremely low glycemic index (GI-4) which means they're ideal for stabilizing blood sugar. Try blending them into a pre-workout or night-time shake sometime.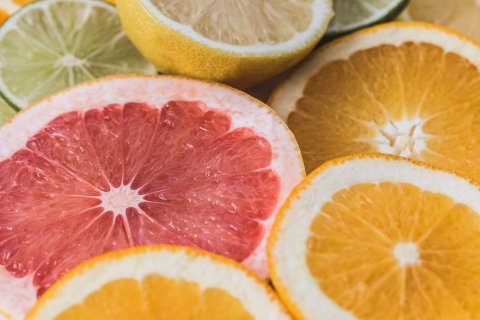 Avocados are native to Central Mexico. They're actually a fruit that grow on trees like apples or pears. Avocados are an extremely good source of fiber. One avocado contains about 15 grams of soluble (25%) and insoluble (75%) dietary fiber, which is equivalent to about three large baked potatoes.
The grapefruit is actually classified as a berry (hesperidium). Grapefruits at maturity are bright yellow with a thick peel with white, pale yellow, pink or red flesh. Unlike avocados, Rudy Red Grapefruits contain virtually no fat. They're primary source of energy are low glycemic carbs (15g per grapefruit) but these little gems are mostly water.
Grapefruits are an excellent source of many nutrients, antioxidants and phytochemicals that contribute to a healthy diet. Grapefruits are a good source of vitamin C and bioflavanoids, contain the fiber pectin and the pink and red hues contain the beneficial antioxidant lycopene.
Ruby Red Grapefruit and Avocado Salad
Serves 4
2 ripe avocados
1 Ruby Red Grapefruit
¼ cup red onion
½ cup Goat Feta Cheese (optional)
½ cup raw pumpkin seeds (or other nuts and seeds)
Directions
Using a large knife, carefully peel grapefruits, making sure to remove all of the white pith.
Working over a large bowl to catch any juice, cut along the side of each membrane to release the segments.
Cut grapefruit segments into ½ inch cubes, remove seeds and place in a mixing bowl.
Cut avocados in small pieces the same size as the grapefruit. Add avocado to grapefruit.
Finely chop red onion and place in mixing bowl with avocado and grapefruit.
Add crumbled goat feta cheese and pumpkin seeds to the bowl and using a spoon gently stir until the ingredients are thoroughly mixed together.
Place mixture on a plate or in a bowl and top with Spicy Avocado Dressing.
Spicy Avocado Dressing
1 part (1/2 cup-125 ml) "extra virgin" olive oil
1 part (1/2 cup-125 ml) juice from freshly squeezed lemon
1 whole avocado
4 cloves of crushed garlic
1 tsp. (or more) crushed red chili peppers
1 Tablespoon unpasteurized honey
½ tsp. sea salt (optional)
Directions
Makes approximately 1 cup (250 ml) of dressing.
Add all ingredients to blender, blend until mixture is smooth and creamy.
Serving suggestions:
Serve with Ahi tuna, seared scallops, garlic prawns, raw shrimp, salmon, crabmeat or chicken breast.
For vegetarian meal, add on top of wild rice or quinoa and omit goat feta cheese.
Photo by Matthew Henry from Burst
---
Bon Appetite!