Red Fruit Crumble
Submitted by

admin

on November 15, 2011 - 7:19pm


The color red has long-been associated with strength, health and passion. These elements are necessary components for a well-rounded person. As passion radiates through the color of red, be sure to choose foods with a vivacious red hue as they will keep you healthy, strong and beautiful.

Red fruits are loaded with beneficial plant compounds called phytochemicals that can preserve your health in many ways. Phytochemicals can keep your brain agile as you age, guard against heart disease and cancer, ease arthritis and ward off urinary tract infections and ulcers.
Many red fruits and vegetables are colored by a pigment called lycopene, an antioxidant that helps neutralize uncontrolled free radical activity in the body. Lycopene belongs to a large family of fat-soluble carotenoids. It can protect neurons associated with memory and reduce the risk of certain forms of cancer.
The sweet/tardiness of red berries available year round in frozen form will add some welcome color towards the end of winter. There are few desserts more fabulous than fruit crumble, served warm from the oven and topped with freshly whipped full fat whipped cream.
Leftover crumb mixture can be frozen and taken from the freezer whenever you have a craving for something sweet. This recipe is very simple; all you need are some cherries and a mixture of berries including strawberries, raspberries and huckleberries.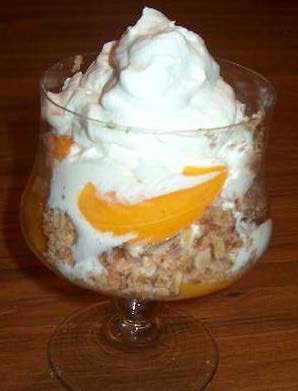 Preheat oven to 350 degrees F (180 degrees C)
Recipe can be cut in half.
Filling
6-8 cups fresh or frozen red cherries, strawberries, raspberries, huckleberries
½ freshly squeezed orange juice
½ cup unpasteurized honey (or more)
Crumble
1/½ cups buckwheat flour
1 ½ cups wild oats
½ pound of melted unsalted butter or 8 oz coconut oil or 8 oz ghee
2 cups coconut palm sugar
1 tsp cinnamon
1 tsp baking soda
Directions
Grease a 9x12 inch casserole dish, approx. 2 inches deep. Spread frozen fruit evenly in the dish, filling it almost to the top. Drizzle ½ cup honey and orange juice over the fruit.
In a large mixing bowl combine flour, oats, cinnamon, baking soda. Add butter (or oil), sugar and blend with fingertips until mixture is thoroughly mixed. Mixture should be sticky.
Evenly spread the crumble mixture on top of the fruit and pat down with hands.
Bake for 30 minutes for fresh fruit and 40 minutes for frozen or until the fruit starts to bubble and you can smell the delicious flavor!
Let stand of a few minutes. Scoop into bowls and top with freshly whipped non-sweetened whipping cream.
Serving suggestion
Top with fresh whip cream.
Add one litre of liquid whip cream to a mixing bowl with 1 tsp of pure vanilla extract.
Beat until peaks form.
Enjoy!
Bon Appetite!...TKH