Magnesium Salad
Submitted by

admin

on June 20, 2014 - 4:24pm


Besides being rich in magnesium this salad is also highly alkalizing. It's great for the thyroid and loaded with antioxidants, vitamins and is mineral rich. Here's why...Like kale and Swiss chard, spinach is an excellent source of chlorophyll. Chlorophyll is what gives plants their green color. It is found in all green vegetables especially the green leafy vegetables.
Chlorophyll is also a very powerful source of magnesium and is regarded by the natural health industry as an incredible healing substance. 1 cup approximately 24 mg of magnesium. Wakame (kelp) is a thin and stringy seaweed, deep green in color and used in making seaweed salad and miso soup. Kelp content is rich in protein, magnesium, calcium, iodine, high in potassium, iron and folate. It is also high in dietary fiber. 107 mg of magnesium per 100 grams.
Did you know that pumpkin seeds are the only alkaline-forming seed? This is due to their extraordinary high potassium content (919 mg per 100 grams).
Pumpkin seeds (pepitas) contain plenty of minerals including magnesium, phosphorus, manganese, iron and copper and a rich source of zinc. 28 gm contains more than 2 mg of this beneficial mineral. 534 mg of magnesium per 100 grams.
Eat a handful while making this salad.
California avocados provide 67 mg of magnesium per 1 cup of puree while larger more watery Florida varieties offer 55 mg. In addition to providing magnesium, avocados are a good source of potassium, another electrolyte. An average of all avocado types provides over 1,000 mg of potassium per pureed cup, over double the amount in a banana. Avocados are high in calories and fat, but they provide heart-healthy beneficial fats that support cardiac health.
A green onion is one of various Allium species, all of which have hollow green leaves, but which lack a fully developed root bulb. It has a relatively mild onion flavour, and is used as a vegetable, either raw or cooked. 23 mg of magnesium per 100 grams.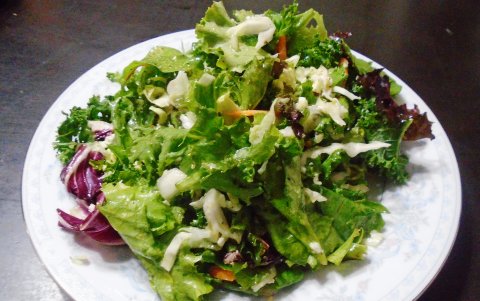 Estimated amount of magnesium per individual serving: 600 mg WOW!!
Alkaline MAGNESIUM SALAD
Makes enough for 4 large sized full meal salads
1 container organic baby spinach mix (312 gm)
2 medium size avocados (chopped)
1 red and 1 green apple chopped (peels left on)
½ cup long green onions (including chives) chopped
1 cup goat feta cheese
1 cup (or more) raw, unsalted pumpkin seeds
½ cup dried wakame
3 cooked chicken breasts (boneless & skinless) chopped
2 cups cooked yams chopped (with or without skin)
Dressing
In a jar with lid add together and shake:
½ cup extra virgin olive oil
¼ cup Balsamic vinegar
Mrs. Dash original blend (salt-free)
Fresh ground pepper
NOTE:
The chicken and yams are optional if you prefer a lighter version of this salad as a starter.
Related Article: Mighty Magnesium


Bon Appetite!...TKH
---