Lettuce Wraps
Submitted by

admin

on January 16, 2016 - 12:11am



There is life after bread! Using lettuce instead of pita, crackers or sliced bread makes this meal lighter, more hydrating and less acidic. Full of flavor, lettuce wraps are easy to make and the sky is the limit regarding the different ingredients you can substitute.
This recipe is a great way to start your lettuce wrap journey, instead of chicken try extra lean ground beef or bison, shrimp or any white fish.
Substitute celery for water chestnuts or tamari sauce for chili or Hoisin sauce. Use different chopped sautéed vegetables such as broccoli, zucchini and tomato. Sweet or savory, any way you wrap it up, it's going to be delicious.
Makes approximately 4-6 wraps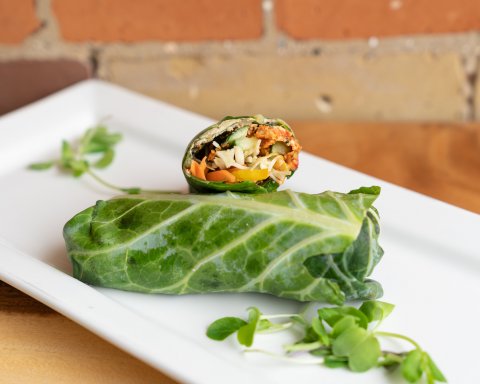 INGREDIENTS:
2 tbsp wheat free tamari, braggs soy or coconut aminos
2 tbsp honey or agave syrup
2 tbsp coconut oil
1 1/2 lbs. chicken breast, cut into small pieces
Sea salt and black pepper
2 cloves garlic, finely chopped
1 tbsp grated ginger root
1 bunch scallions, trimmed and sliced
½ cup chopped celery
½ cup red pepper chopped
¼ cup roasted, unsalted cashews
1 small head Boston or Bibb lettuce leaves washed and separated
Use collard or chard leaves as an alternative to lettuce
PREPARATION:
Combine tamari and honey/agave in a small bowl, set aside.
Heat oil in large skillet over med/high heat.
Add chicken and season with sea salt and pepper and sauté, stirring occasionally, until chicken begins to brown.
Lower heat and stir in garlic and ginger.
Add scallions, celery and red pepper and sauté until soft.
Add soy/honey mixture. Continue to cook until chicken is cooked thoroughly.
Remove from heat.
Break off all the lettuce leaves and pile them on a large plate in the center of the table. Transfer the hot chicken mixture to a serving dish, or serve straight from the skillet. Give everyone a spoon and a lettuce leaf and scoop up generous portion of chicken mixture in the middle of a lettuce leaf, top with cashews. Enjoy!
Photo by Michele Krozser from Burst
---
Bon Appetite!