Kale Caesar Salad With A Twist
Submitted by

admin

on November 16, 2017 - 9:19am


Here's a great way to get green into your diet! Even the fussiest eater will love this salad. The dressing is rich and savory and atop of the the curly kale it's a match made in heaven.
Kale is being called "the new beef", "the queen of greens" and "a nutritional powerhouse". Although Kale does have many health benefits however, it's very important to buy organic as non-organic kale is frequently high in pesticides.
Also, some say that Kale or leaf cabbage is from the brassica family and should be eaten in moderation if you suffer from thyroid issues.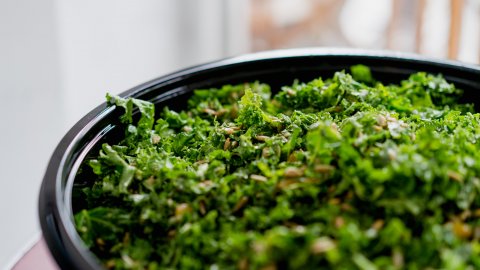 Kale is low in calories, high in fiber and has zero fat. One cup of kale has only 36 calories, 5 grams of fiber and 0 grams of fat. It is great for aiding in digestion and elimination with its great fiber content. It's also filled with so many nutrients, vitamins, folate and magnesium. Kale is high in iron, vitamin K and vitamin C. Vitamin C is necessary to maintain cartilage and joint flexibility.
Kale is filled with powerful antioxidants including carotenoids and flavonoids which are known to protect against various cancers. Kale is also a great anti-inflammatory food. One cup of kale is filled with 10% of the RDA of omega-3 fatty acids.
Kale is high in high in calcium. Per calorie, kale has more calcium than milk, which aids in preventing bone loss, preventing osteoporosis and maintaining a healthy metabolism. Kale is a great detox food. Kale is filled with fiber and sulfur, both great for detoxifying your body and keeping your liver healthy.
Salad Dressing
Add the following ingredients to a blender:
1/2 cup-125 ml) "extra virgin" olive oil
1/4 cup-125 ml) juice from freshly squeezed lemon or less
1 Tablespoon (15 ml) Dijon mustard
4 cloves of freshly grated garlic
1/4 cup of Balsamic vinegar
2 tins of good quality anchovies with oil or anchovy paste
1 cup of goat feta cheese
Blend thoroughly for 10 seconds.
Taste test for more oil, balsamic vinegar or cheese.
Salad Ingredients
6-8 large leaves of organic kale
1 tablespoon of capers
one small red onion
Preparation Directions
Wash kale thoroughly, use a tea towel to dry or cut and spin in a salad spinner. Put into fridge to get it nice and crispy.
Use only the leaves not the spine as it is too tough.
Cut 1 small red onion into small pieces.
Cut kale into small bit size pieces, add onions and capers then top with dressing and toss thoroughly.
---
Bon Appetite!...TKH