Halva Delight Protein Boost
Submitted by

admin

on February 1, 2020 - 5:48pm

This dish is delicious and delectable. Pure enjoyment in each and every bite. This scrumptious desert snack treat is as clean as a whistle. Ancients myths proclaim the healing virtue of sesame with its unique source of Vitamin T. Vitamin T, or torulitine, has been identified in egg yolks and sesame seeds. Halva originates from the Middle East and Asia.
Sesame is thought by some to improve memory and concentration, and to help strengthen red blood cells. Sesame seeds may be the oldest condiment known to man. Raw honey is a friend to all but much of its antibiotic natural healing factor is lost through cooking. Cacao has 135 times more potassium than sodium and is a good source of folate, niacin, lutein, calcium and magnesium. Walnuts contain melatonin, omega-3 fatty acids and a rich source of antioxidants. Pumpkin seeds also contain omega-3 fatty acids. They are a great source of zinc, magnesium and potassium.
Halva Delight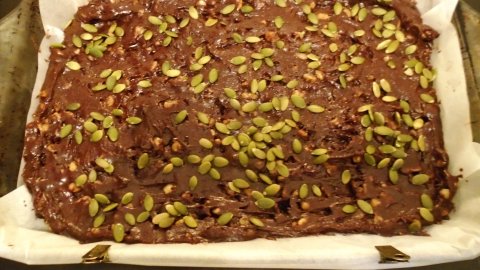 Ingredients
1.5 cup raw honey
1.5 cup ground sesame seed paste
1 cup crushed walnuts
2 heaping T. unsweetened cacao powder
1 cup dark dairy-free cacao chips sweetened with maltitol
4 T. unsalted raw pumpkin seeds
3 scoops (75g) unflavored unsweetened whey protein isolate (WPI)
Method
Mix honey with sesame paste in a bowl with a wooden spoon until thoroughly mixed
Mix in cacao powder and WPI
Add walnuts and cacao chips
Scrap mixture out into a pan with edges and press down into a 1" layer
Refrigerate for several hours
Serving Suggestions
Cut into small 1" x 2" squares. Serve as a snack anytime or as a desert after a dinner party. These snacks are extremely dense so be careful!
---
Bon Appetite!...TKH