Cory's Robot Lunch Salad
Submitted by

admin

on October 11, 2019 - 7:20pm


This medley of fresh, chopped, crunchy raw vegetables and herring is one of Cory's favorite all-time at-home lunches. It's called a Robot Lunch Salad because like a robot, Cory makes it exactly the same way, at virtually the same time everyday and also enjoys this delicacy as if he's never eaten it before and never will again.
This multicolored rainbow salad is ultra-rich in flavonoids and carotenoids, and of course this culinary delight not only tastes delicious, but goes hand-in-hand with an episode of Star Trek followed by an afternoon natural hGH release induced by a brief power nap. Rest is an important as activity.
Each and every vegetable is selected by Cory for quality in advance. Cory believes that having a positive relationship with food and making it yourself is one of the keys to compressing morbidity and achieving great personal health and happiness long term. When you buy everything fresh you know exactly what you're getting and when you make it yourself, you know exactly what's in it. This is one of the principle reasons Cory rarely eats out. Restaurant food just can't compete with what he or Tracy can make at home.
This meal is high in water volume, rich in enzymes, alkaline forming, low in carbs and sports a very low glycemic index rating and overall glycemic load. It provides a great shot of high-quality protein, minerals and omega-3's from the sea and it's also incredibly cost effective.
Cory's Robot Salad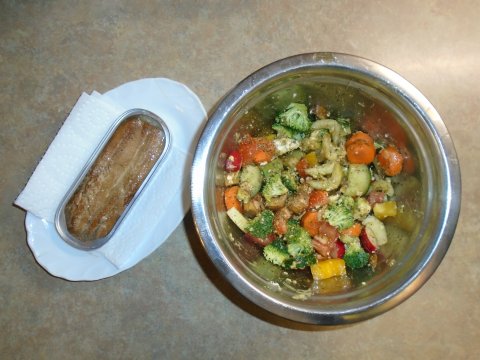 Ingredients
2 large red radishes
1 dark brown Portabello mushroom
1 medium sized Roma tomato
1 medium sized carrot
1 celery stalk
½ red, yellow or orange sweet pepper
½ cup cucumber
3 or 4 broccoli crowns
½ medium sized ripe avocado
2 medium sized Greek olives (remove pits)
medium sized chunk of feta goat cheese
Method
Wash, chop up the vegetables and put them into a bowl
Slice up and add the avocado
Crumble the goat feta over the vegetables
Add plenty of Extra Virgin Olive Oil
Add a stream of authentic Balsamic vinegar
Sprinkle generously with Mrs. Dash and turn the salad ingredients around and over with a fork to mix well with the oil and vinegar.


Brunswick Herring
Open up a ready to eat 92g tin of New Brunswick Canadian Golden Boneless Smoked Herring
Serving suggestions
While watching Star Trek eat some vegetables, have a bite of herring then repeat until everything's gone!
Watch episodes of Star Trek in the following chronological order beginning with:
Enterprise
Discovery
Star Trek (original series)
Star Trek (animated series)
The Next Generation
Deep Space Nine
Voyager
Like light itself Star Trek is a wave and each each episode is a particle. Make this experience exactly the same way each time and become a Sports Nutrition Robot like Cory too!
---
Bon Appetite!...TKH