Cold Gazpacho Soup
Submitted by

admin

on May 15, 2018 - 5:02pm


Gazpacho is a cold Spanish tomato based raw vegetable soup, originating in the southern region of Andalucia. Gazpacho is widely consumed throughout Spain. The word gazpacho is believed to come from the word "caspa", meaning "residue" or "fragments", an allusion to the small pieces of bread and vegetables in the original gazpacho soup.
Gazpacho soup is one of summer's pleasures. It is cooling and refreshing and a great appetizer to any summer BBQ. This cold soup is bursting with the fresh flavors of tomatoes, red bell peppers, red onions, garlic, and celery, these raw vegetables that are rich in health-promoting antioxidants.
What makes gazpacho soup so good is the fresh taste of all the vegetables. It's best in the summer when vegetables are the most flavorful. People who have never tried a cold soup are sometimes hesitant to try gazpacho but soon become fans of the fresh, intense flavors.
This is an excellent make-ahead dish for summer parties. Serve this soup with grilled chicken or fish for a satisfying, healthy lunch or dinner.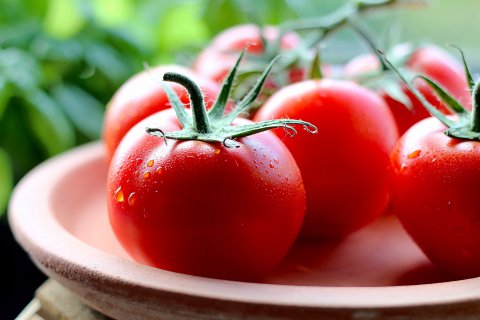 I like to serve Gazpacho soup to my guests in red, yellow, orange and green peppers, cleaned out with the tops cut off and filled with this delicious cold soup. Your guests will love this innovative and colorful idea and then they can munch on the pepper when they've finished the soup. No need to serve a salad.
There are many variations to making this soup; this is one of my favorites. Gazpacho can be totally pureed or have some chunks of vegetable. I always recommend using organic produce if possible.
Tomatoes are a rich source of several nutrients. They are well known for their high vitamin C content, but also contain significant amount of vitamin A, B vitamins including niacin and riboflavin, magnesium, phosphorous and calcium.
Tomatoes are also a good source of chromium, folate and fiber. In recent years a particular nutrient found in abundance in tomatoes, lycopene, has made many headlines for its disease fighting abilities.
Unlike some other canned foods, canned tomatoes retain most of their nutrients. In fact, cooked or canned tomatoes contain more lycopene than raw tomatoes. If buying canned tomatoes choose varieties without added sodium.
Gazpacho Soup Recipe
Serving Size: 8
Ingredients
3 cups tomatoes (any type) red ripe, seeded and diced
2 cups red bell pepper, diced medium
2 cups red onions, diced medium
1/2 cup celery, diced medium
2 cups cucumber, diced medium
2 teaspoons garlic, minced
1/4 cup red wine vinegar
2 cups organic vegetable or tomato juice (low salt)
pinch cayenne
1 teaspoon cumin
Method
Mix diced tomato, peppers, red onions, celery and cucumber together in a medium bowl. Divide the mixture in half and separate in two bowls.
Add garlic to one of the bowls and empty into blender. Add vinegar to the blender and puree until smooth.
Add the vegetable juice, cayenne and cumin to the blender. Blend. Add the puree to the bowl of diced vegetables.
This soup can be refrigerated overnight to bring out the flavors. Garnish with lemon and cilantro. Topping options to make it a meal (or a party): cooked shrimp, lump crabmeat, chopped cooked chicken, chopped hard-boiled eggs, chopped avocado, sliced green olives, slivered toasted almonds, fresh herbs, Greek yogurt or tzatziki sauce, lemon/lime/orange wedges and/or zest (see my favorite combinations, below)
Recommended Topping Suggestions
Classic: Green pepper, red onion, and cucumber
Crabmeat, avocado, and roasted corn
Shrimp, feta cheese, and green olives
Hard-boiled egg, capers, and red onion
Plain Greek yogurt (or your favorite tzatziki sauce), cucumber, chopped almonds, and lemon zest
Photo by Sheila Pedraza Burk from Burst
---
Bon Appetite!...TKH

---