Asian Rainbow Coleslaw
Submitted by

admin

on December 2, 2013 - 8:26pm


This salad is colorful and hearty and best of all is a great companion to any protein dish. Its major constituent is cabbage, derived from the French word "caboche" meaning head. Cabbage is a popular cruciferous vegetable, available in colors red or green.

Unique to cabbage is Vitamin U (S-methymethionine) derived from the essential amino acid methionine. Vitamin U was first coined in 1950 by Garnett Cheney for anti-ulcerogenic factors identified in raw cabbage juice known to heal peptic ulcers and protect gastrointestinal mucosa.
Cabbage contains a good variety of cell protecting antioxidants and a special sulfur compound called sulforaphane that exhibits anti-cancer and anti-microbial properties in experimental models. Cabbage builds strength and vitality.
Asian Rainbow Coleslaw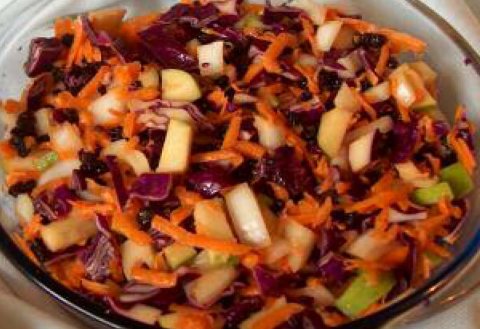 - ½ of small Red cabbage shredded - ½ of small Green cabbage shredded
- 1 Yellow pepper cut into thin strips - 1 Carrot grated - 1 Apple or apple/pear finely chopped - 2 Green onions chopped - 2 cups unsalted cashews (if allergic, omit or add favorite seed or nut)
Tahini Salad Dressing:
Together in a blender add:
1 part (1/2 cup-125 ml) "extra virgin" olive oil
1 part (1/2 cup-125 ml) juice from freshly squeezed lemon
1 bulb of garlic grated
½ cup unpasteurized honey
3 Tablespoons Tahini
½ teaspoon of hot chili sauce (optional)
Mix all ingredients of salad together tossing lightly, sprinkle cashews after adding Tahini dressing as they will become slightly soggy.


Bon Appetite!...TKH
---