In-Store Sales & Service Staff Training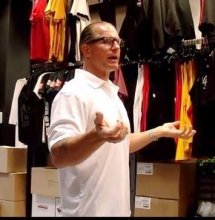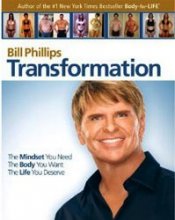 At a private meeting in Golden Colorado with Bill Phillips of EAS in the late 90's, I succinctly remember him saying, "OK, we're Number One in the world and it took a lot to get here. But the challenge now will be to stay where we are and hold it together, because the guys below are hungry. We have to stay hungry!"
There are three things each of your staff must possess to enjoy great success and prosperity in the retail business of holistic, integrative and functional sports nutrition.
I call them the Three Ps.

PERSONALITY (Outgoing, Understanding & Enthusiastic)
PRODUCT KNOWLEDGE (Cutting Edge, Eclectic and Expansive)
PHYSICAL APPEARANCE (Healthy, Well Groomed, Lean & Fit)
With that in mind, let me share the details of what I can do for you and your staff.
Example
Date: Tuesday June 30th, 2015
Time: 6:30 pm - 10:30 pm (4 hours)
Place: In-Store (one of your locations)
Who: Entire sales staff
Why: To get everyone fired up!
Seminar Details
Basic & advanced sports nutrition principles
Customer sales and service
Display and efficient use of space
Relationship selling
Asking the right questions
How to inspire the customer to buy
The importance of product knowledge
Sports nutrition research & development
How to expand a sale
How to close the sale
Over-the-counter role playing
Customer interaction
Overcoming objections
The 3 steps of selling
Sales tools and how to use them
Price point issues
Putting a complete sports nutrition program together for the customer
Q & A period

Seminar Fee
Includes a complimentary hard-copy sports nutrition sales & service training manual and certification course (111 pages) for each attendee valued at $199.00 USD The Art of Selling Vitamins
Includes a complimentary reference guide encyclopedia sent by email in PDF format (1046 pages) for each attendee valued at $99.00 USD Encyclopedia of Sports Nutrition
Includes a four hour in-store live presentation by Dr. Holly designed to teach, coach and inspire your staff
$200.00 USD per Individual Staff Member
Number of staff x $200.00 USD = total CHI seminar staff training fee
Terms of Payment
50% paid in advance to confirm booking
50% payable at the end of the seminar on the date of the seminar
Please let us know what date works for you. We know getting everyone together for one evening can be a challenge, but anything worth doing is worth doing well. It will be wise to have some high-quality natural whole food on hand, as some or most of your staff will be working that day. The thought of attending a 4 hour seminar after a full day of work may be perceived as "grueling" by some, but we guarantee it will be well worth their while (and yours).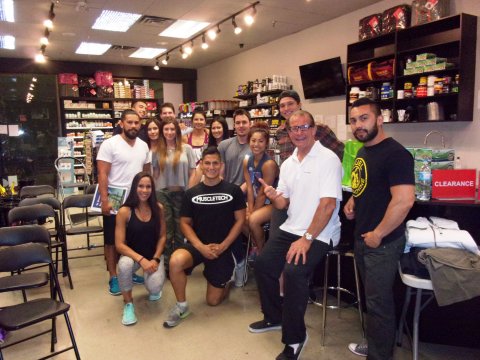 "Hi Cory & Tracy, Just wanted to thank you again for the amazing seminar. My staff really enjoyed it and it was a real eye opener for them."

Cesar Pineda
Owner Operator Manager
FUEL Supplements Coquitlam BC

Please Note
In addition to the seminar fee, and depending on location and number of staff, retailers may be responsible for Cory's travel and accommodation expenses. But as Dr. Holly is often on the road attending various conferences and trade shows, it makes sense to coordinate a night when he's in your area or close to it.


This form of specialized sales training is a necessary business investment. The best way to increase sales is to train and inspire your staff to sell with intelligence, confidence, pride and great skill. Just like an athlete in training! They have to train hard, prepare in advance and rehearse.
NO TRAINING = NO SALES!!! (Or in the least far less than what is possible). No sales, no business. No business, no store. No store, no revenue stream. End of story. Why do Fortune 500 companies spend thousands of dollars training and teaching their sales force how to sell? For fun or for money? Isn't training your staff in the Techniques and Science of Sales & Service what common sense and logic dictates?
---
Staff Testimonies
"I really enjoyed your seminar Tuesday of last week, so much that I started reading this material right away."
Thanks very much!
Kaeli from FUEL Supplements (Certified in the ART of Selling)
Coquitlam BC Canada
---
"My name is Aidan Brow and I attended your seminar with my work team at Fuel supplements a few months ago. I just wanted to let you know that your seminar really opened up my eyes and motivated me to become a better salesperson and educate myself beyond the bodybuilding aspect of sports nutrition immensely. Being new to the customer service industry myself still it was a huge help for me. I also really enjoyed studying for this exam and reading through your encyclopedia. I have definitely gained some extremely valuable knowledge doing so! I look forward to hearing back from you and I am very excited to receive certification through this program. Here is my completed exam."
Thank you very much!
Aidan from FUEL Supplements (Certified in the ART of Selling)
Coquitlam BC Canada
---
Actual In-Store Seminar Videos