How To Get Well
How To Get Well Certification Course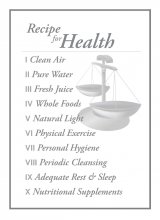 How To Get Well (Recipe For Health)
This course is perfect if you want to drill the basics, drink from the fountain of health or face your inner worst demons. As a student you will be challenged and forced by your own hand to analyze what you're actually doing in your life, as in terms of behavior, life purpose and future destination. Is Fate what we make?
I've learned that it is all about balance and quality. Life should be analyzed in every way. What path should we take to lengthen our telomeres or at least try and prevent them from getting shorter? How do we know what to do?


Student Tuition & Enrollment Here $99.00 USD
Course Details
This CHI Course Elective reviews the steps that are necessary to understand and apply for those searching for better health and optimum wellness. It includes the book Recipe For Health in both audio MP3 format and a written PDF manuscript. Students will learn how to live and get well and derive motivation to apply necessary change. This course defines optimum health and describes the ten principles steps essential to its achievement. It serves as an ideal introduction to the world of alternative health care, holistic sports nutrition and fitness. Discover the key ingredients you need to create your own Recipe for Health and learn the secret of true motivation. Do you know How To Get Well?

Certificate of Graduation




Course includes study text, assignments, audio tutorials, exam, certificate and a copy of the Encyclopedia of Sports Nutrition (ESN).
How To Get Well MP3 Audio Sample
How To Get Well Program PDF Excerpt
Required Reading for this Course
The Encyclopedia of Sports Nutrition
---