Natural Health Hawaiian Style
Submitted by

admin

on November 18, 2014 - 4:42pm



My story begins in 1982. I was working at a health food store and had just married Anna, my first wife. After a wonderful RV honeymoon on the rugged Oregon coastline, we returned home to find dozens of unopened wedding gifts on the front room floor of our small basement suite in Burnaby.
That night we went out for sushi. During our conversation Anna fired a gun at my head at point blank range.
"Let's go to Hawaii", she exclaimed.
"What!", I replied in shock. "Are you kidding?
"No Cory, I'm not kidding. I know your dream is to live there, that's all you ever talk about. So let's do it! Let's go NOW and have the baby there."
So that's exactly what we did. We opened all our wedding gifts, cashed them in the next day, gave our notice, had a garage sale, and by month end we were on a plane to Honolulu. Alooooooooha!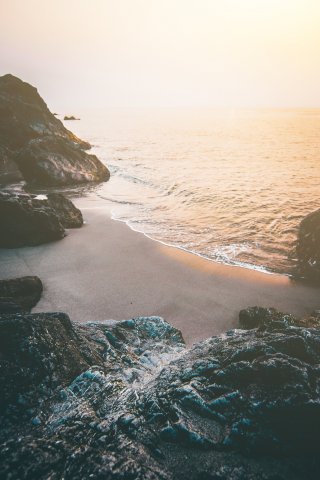 Anna was eight months pregnant the day we left. She wore a big oversized jacket so no one would know. We had 2000 bucks to our name, no place to stay and no jobs. But we didn't care. We had each other and were on a mission. We were going to live in Hawaii and my son or daughter would be born there.
We arrived at the Honolulu airport then made arrangements to fly to the Big Island. It was less commercial and very laid back. Once we arrived in Kona, we headed straight for the closest camp site. We hopped a bus, hitched a ride and walked for miles over landscape that reminded us of the moon. We reached the site and I pitched our tent.
"We made it", I said. "We're here!"
We were hungry and exhausted, especially Anna, but we were both into fitness, whole foods and dietary supplements, so we had what it took to persevere. We devoured some dried fish and fresh pineapple, watched the sky blaze as the sun set behind the horizon, then crashed into a deep sleep.
The next morning we woke up to a velvet blanket of heat and the sound of waves crashing against the shore. We peeked our heads out and beheld an amazing sight. Sandy beaches, swirls of black lava rock, green turquoise sea, endless blue sky and a radiant bright yellow sun.
It stirred my soul.
"OK," I said, "Let's find some work". I scoured the help wanted section of the local newspaper. There it was. The ad read, Wanted. Couple to help out on 35 acre dairy farm. Lodging, work clothes and food provided. Please call.
We got to a phone and explained our situation. The fellow urged us to come over, meet in person and talk story. We did and I was hired on the spot.
My job was to herd 80 dairy cows from the pastures to the milking stations three times a day. I would help get them into their stalls, hook them up to milking tubes, steer them back to the fields and clean up any mess left behind.
Our home was a cozy little cabin. It had no running water or electricity, but plenty of warm blankets. On the slopes of Mauna Loa it gets cold at night. We cooked our dinner over an open fire and gazed up the stars through the brilliant night sky. It was amazing!
We drank fresh raw milk, ate organic vegetables picked by our own hands, feasted on local papaya and guava fruit, and ate some of the best organic grass fed beef I have ever tasted.
After the first week, I called my friend John just to say hi. He lived in Maui. He asked what we were up to, paused for a moment, then invited us to come over.
"Kihei's a great place to raise a family," said John. "You can stay with me until you find your own place."
Well I'm not one to squander an invitation like that. So we thanked the Kansas couple that helped us get started, packed up our stuff, and caught the next flight to Maui.
In less than a week we secured a small cottage in Maui Meadows and I got hired as a room service waiter at the Westin Wailea Resort Hotel. Things were going good!
My job was to serve breakfast to hotel guests. It was a blast. We had a ton of fun and made great tips. I made some really great friends at the hotel. I learned to scuba dive, windsurf and sail. Every weekend we'd get together for family picnics on the beach. We'd swim, bodysurf, play barefoot soccer, basketball and ping pong for hours.
Then I met Sammy the cook.
Sammy was a local Hawaiian, born and bred. He drove a jeep and lived to fish. We quickly bonded and hung out together frequently. He taught me how to 'throw net' Hawaiian style, free dive and spear fish, hunt for taco (octopus) and where to find Lobster at night. We cooked it right on the beach. Good grinds brah!
Sammy showed me places only locals knew about. Incredibly lush bamboo forests, breathtaking hidden waterfalls and fresh water streams that flowed endlessly out to the sea. Maui is the 'Valley Isle'.
We built a gym under a huge mango tree. After work we'd lift for an hour, then drive down to the beach to swim and bodysurf. I had my own car, a beach cruiser bicycle and an old dirt bike perfect for trailblazing. What a blast!
Daisy was born at home Dec 12th, 1982. She was delivered into my arms with the expert guidance of a local Kahuna midwife. The experience was unforgettable.
I was living the life I had dreamed of since my first visit to Hawaii where the dream began. I was extremely happy.
My experiences in Hawaii left a deep imprint on how I live my life, how I teach, how I train and how I eat. Living there as a local helped shape my philosophy of natural health, life purpose, healing, athletic performance and organic living.
Today I teach health principles associated with using high-density organic whole food, natural health products and a multi-disciplinary approach to living and training. My students are as eclectic as my philosophy. They're elite athletes, personal trainers, health professionals, health food store retailers, teachers, coaches and highly-motivated health enthusiasts.
Did my life in paradise meet my expectations? Not a chance.
It exceeded them. Big time! Hang loose Brah!
Photo by Damian Rycharski from Burst
---
Related Article: Where The Dream Began: Hawaiian Paradise
---