Black Bean Brownies
Submitted by

admin

on December 16, 2017 - 10:41am

Here's the scoop on these little black beans. They're loaded with a rare combination of both protein and fiber. Per 100 grams of beans you'll get 21 grams protein, 16 grams fiber, 63 grams carbohydrates and a whopping 1500 grams of potassium. Black beans are very in low in fat and sodium.

The skins of black beans are rich in anthocyanins. Anthocyanins are responsible for the deep reds, blues, purples and magenta colors seen in blueberries, grapes and açaí berries. Anthocyanins are powerful antioxidants.
Anthocyanins are known to decrease the risk of heart disease and cancer. They also play an important role in the prevention of macular degeneration by protecting the eyes from free radical damage, increasing circulation and stabilizing collagen structures.
Black beans also provide heart healthy omega-3 fatty acids that help reduce inflammation. They're an excellent source of molybdenum which is an element involved in energy production and lipid metabolism. In addition, black beans are a very good source of heart-healthy dietary fiber and folate.
Calories: 70 Fat: 2g Carbs: 10g Protein: 5g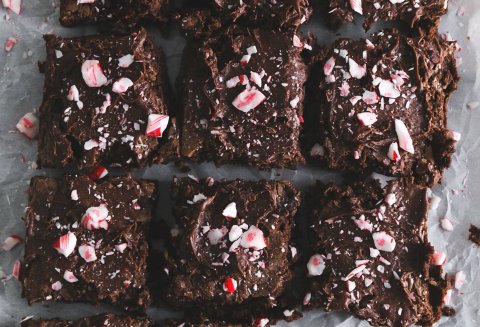 If you make 9 squares….which are large as these brownies are very rich.
Ingredients
1 can of black beans, rinsed
¼ cup coconut oil
3 eggs
6 tbsp unsweetened cocoa powder
3 heaping tbsp honey
1 tsp pure vanilla extract
Optional:
1 cup chopped walnuts or any other nut you like
½ cup carob chips or non sugar sweetened chocolate chips
DIRECTIONS
Line a 8x8 baking pan with parchment paper.
Preheat your oven to 350 F.
In a blender, add in all the ingredients and pulse until creamy and completely smooth.
Stir in chocolate chips and walnuts or once in the pan top the brownie mixture with the walnuts and chips.
Transfer the batter to the lined pan and tap on the counter to burst air bubbles.
Bake for 30 minutes. Insert a fork into the middle. If it comes out clean, your brownies are done.
Let the brownies cool on the counter. Remove from the hot pan, peel off parchment paper and cut into squares.
Photo by Sarah Pflug from Burst
---
Bon Appetite!...TKH

---